The Honey Creepers Band is a Southwest Florida Original. Down to the core trio, they feature the soulful and dynamic vocals of Prana, the brilliant singer songwriter and strings of John R Butler and musical foundation of Randy Hilderman as the bass guitar and trumpet. Individually they all have all performed extensively. Together, the trio now forms the musical experience known as The Honey Creepers Band. They are performing nationally and recording their first original collective LP. Prana, the lead vocalist is a Detroit native with a sound that was born in the Bayou. As a French Creole she brings a soulful and dynamic presence to this talented group. She has performed and competed internationally as a vocalist. She was a member of The Southwest Florida Sweet Adeline's chapter "Spirit of The Gulf. John R Butler, a Singer/Songwriter and guitar player who has performed nationally rounds out this group with some soul stirring original songs. His music has been featured in Major Motion Pictures. Recently his song "Hand of The Almighty was included in the 2013 release of "Texas Chainsaw Massacre 3-D". Randy Hilderman an experienced and energetic bass player who fills in the three part harmony while keeping their groove. Randy has toured Nationally with several bands throughout the US and Europe. He is no stranger to the big stage having opened for Lynard Skynard, The Guess Who, Joan Jett, Kansas and Steely Dan. Their set list includes songs you love from the 20's to the current day and they perform some original music as well. With exciting and thoughtful arrangements of music that moves you this group is a crowd pleaser.
Lee T: Who produced your songs?
HC: All songs are self produced
How many records have you released? 1 EP working on LP
Lee T: When was the latest release?
HC: Latest Release was August 20 2014
http://www.reverbnation.com/thehoneycreepersband/song/21593037-did-i-read-too-much-into-this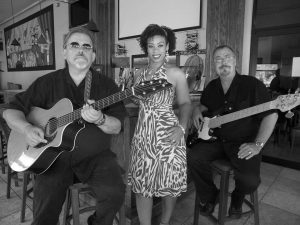 Lee T:List the venues where you typically perform.
HC: Mango Bistro in Englewood, Club Naples, The Groves in Ft Myers Beach
Lee T: Please provide any notable highlights.
HC: Award winning Songwriter John R Butler "Bridge To Sanibel" won Hope By Song 2014 Song Featured in Major Motion Picture (Texas Chainsaw Massacre 3D – Hand Of The All mighty)   Played Riverfest at The City of Bonita 2014 Performed After Party for National act Thompson Square 2014 Recording "Delicious" with Clay Cropper (former member of KC & Sunshine Band) and Duncan Brown (English trumpet player notable for playing with Little Richard and Aretha Franklin). Writing song for local film The 4th Letter of Ponce de Leon.
Lee T: Your contact information?
HC: GETTV LLC is management booking and press contact. website gettvlive.com email gettvllc@gmail.com Phone Erik Krefeld 313-595-2116
website: http://thehcband.com/
Lee T: Have you showcased for a music label?
HC: No